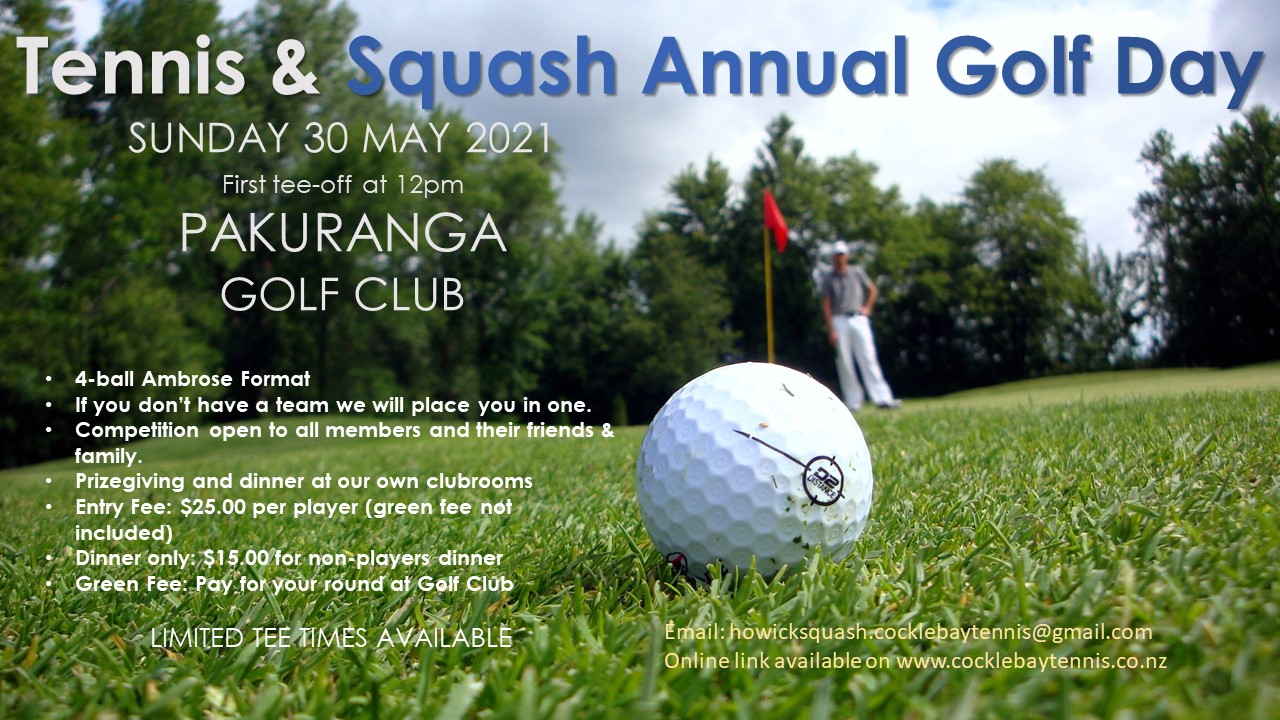 Tennis & Squash Annual Golf Day
Pakuranga Golf Club | Sunday 30 May 2021
LIMITED TEE TIMES AVAILABLE
To book players you must be booked into Hello Club first
Click here to enter yourself and other players
4-ball Ambrose Format
If you don't have a team we will place you in one.
Competition open to all members and their friends and family
Prizegiving will be at our club with dinner
Fees
$50.00 Green fee if not a Pakuranga Golf Club member
Pakuranga Golf Club members pay green fees according their golf membership category
$25.00 Entry fee per person payable to tennis club to cover prizes etc.
$10.00 per person for dinner only
Rules of the day
Golf Format – Ambrose (team of four players).
When booking in at the golf club pro-shop please give your official  Dotgolf handicap. If you do not have one the maximum for unofficial handicapped players will be 24 for Men and 36 for ladies.
Each player hit off the tee, the best shot is selected and all other players pick up their balls and place it, within 20cm, alongside the best ball
Each person then hits a second shot from the same spot, the best shot is again selected.
This continues until the ball is in the hole.
On the putting green the best ball is marked and the other balls are played from this position.
The minimum number of drives per player is 3.
If your best ball is played from within a hazard then each of the players balls must be played from within that hazard.