1974-1986
Cockle Bay Tennis Club's origin began with the opening of Howick College in 1974. The college was built with 8 asphalt tennis courts and during that first year, local residents and parents organised informal games of tennis out of school hours. At the start of 1975, a public meeting was called at the Howick College library to establish the Howick College Tennis Club with a formal constitution. The club blossomed with a ready supply of students, parents, and local residents keen to play on the new courts. Facilities at the school were sparse in the early days but soon the old Santa's Hut from the Howick Village (really just a builders Hut with no power or water!) was moved to the courts as the first club rooms. The club had exclusive use of the courts after 6pm Mon-Fri, after midday Saturday and all-day Sunday. Mid-week ladies had a limited use between 9.00am – 11.00am on Tuesdays (during school hours).
The club developed a competitive edge early, initially affiliating with the Auckland Hardcourts Association and then Auckland Lawn Tennis Association (now Auckland Tennis) to provide members with a competitive interclub scene. A volley wall was an early initiative by the club and added an additional facility to the school. By 1980 the clubhouse was completely inadequate, and negotiations were held with the Education Department to build a tennis pavilion next to the courts. A busy period of community fund raising, and donations of time, materials and labour resulted in a new clubhouse being opened in 1982, complete with electricity, a deck, and a kitchen (Toilets and showers remained accessible from the school gym). This enhanced and grew the Club's popularity as a family friendly club with organised club tournaments, fun days, and a natural progression for college students to expand their tennis interests with senior play.
Tragically in 1983, long time Club Captain Tim Godwin suffered a medical event while playing on court and passed away. For the club It was a sad loss of a husband, father and friend to many. Tim was also a member of Howick Lions and in his memory the main Club Honours Board was presented to the Club by Howick Lions and remains a focal point in the Club House.
By the mid-eighties, many of the local tennis clubs were upgrading their facilities with the advent of artificial grass surfaces, new court lighting systems and higher quality club rooms. The introduction of Saturday Shopping (and then Sunday shopping) meant that members were not as available to play tennis at set times as well as the restrictions of no court lights, limited mid-week play and the reliance on daylight saving to provide evening tennis was limiting. By 1986/87, the membership had dropped to 19 seniors – mainly the remaining interclub team and foundation members. The situation was dire and even though the club funds were substantial, there was little scope to develop the College courts or improve access rights while sharing a growing College roll.
1986-2009
In 1986, Club members' Bill Brown and Philippa Collins were made aware of the upcoming subdivision of the Somerville farm and establishment of a reserve below Howick College. A small but dedicated group of club stalwarts could see an opportunity to establish a new and modern tennis facility for the area. This began a 5+ year project to raise funds, design a new club, engage the contractors, and ensure the Council (Manukau City Council) approvals were met. The club entered into the "Shared Responsibility Scheme" with the Council (Scheme funded club facilities on reserves) based on the Club contributing 25%, Council grant of 25% and an interest free Council loan of 50%. With a budget of approximately $400,000.00 this was a great deal! With a renewed purpose, the Club went about rebuilding the membership (1 member at a time – it was a celebration to enrol a family!) and set fundraising goals. Whether it was sorting aluminum cans on a Saturday, stock taking at Placemakers, selling 1990 Auckland Commonwealth Games mugs, putting together Portaloos (for the Commonwealth games), setting up for cat shows, selling bags of manure, hosting progressive dinners, garage sales, raffles or 10-year memberships, the sense of teamwork and achievement through this time was huge and grew the membership to 40+. The construction of Meadowland Reserve was scheduled for 1990 but due to the Auckland Commonwealth Games that year, funding was delayed for a year and earthworks began in 1991. The original plan allowed for 8 x outdoor courts, a 2 story clubhouse and future space for 2 indoor courts. This was a large development for its time!
The funding only permitted six courts to be built which were completed in 1992 (in time for the 1992-93 season). The ground floor clubhouse was completed in 1993 through a second tranche of Council shared responsibility funding and a Lotteries grant. The facility was officially opened by the Mayor of Manukau (Sir Barry Curtis) on Sunday 15 August 1993. In 1997, lights for courts 1 -4 were installed, followed by courts 5&6.
The club duly bestowed the first life memberships to Philippa Collins and Bill Brown in 1994 or their effort and dedication to the project. Foundation member and club organiser Mark Jones was similarly acknowledged in 1997.
With our own world class tennis facilities, the club once again flourished with a resident professional tennis coach, business sponsorship, a new mid-week section and expanded junior and intermediate coaching. A strong family focused but competitive club developed throughout all levels (from juniors, mid-week, seniors and veterans), with a new generation of volunteer support from numerous parents and club members.
Continued fundraising through the 1990's allowed the Club to complete the facilities with lighting and modern surfaces on all courts by the start of the 21st century. The Club took on a major fundraising event each year from 1998 as contractor to Auckland Tennis for Gate Control and Programme Selling at the Stanley St tournaments. This continued for many years and was a profitable undertaking for the club.
2009-2020
Cockle Bay Tennis club gained a significant jump in membership resulting from the transfer of members from the disbanding of Macleans Tennis Club (approximately 100 members) in 2009, resulting in a need to build a larger facility to accommodate the increase in membership. In the meantime a further two astro tennis courts were built, giving the club a total of 8 courts.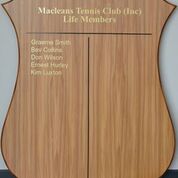 The club originally had plans to build an upper level on top of their existing clubroom, however after a meeting with Council it was decided to set up a meeting with Howick Squash, Cockle Bay Tennis and Howick Softball about forming a multisport complex.
$1.6 Million was raised over the next few months and in January 2011 construction of the new complex got under way.
We moved in to the new complex in July 2011.